Installer portrait in Poland : SunUp ( article published on www.gramwzielone.pl on November 8th)
Having taken part in the rapid residential solar market growth in Poland over the last 2 years, APsystems is committed to continue providing innovative microinverter solutions perfectly suited to Polish residential and small-scale commercial demand and helping solar professionals differentiate from competition. The example of the installation company SunUp, based in the Silesian district in Poland, is a good illustration of how the solar installer landscape in Poland is currently evolving towards smarter AC microinverter-based solar solutions to enhance comprehensive services related to PV installations for its customers.  It is also a way to address consumer demand more proactively and propose a full energy efficiency solution approach that includes heat pumps together with solar and self-consumption for households .
SunUp background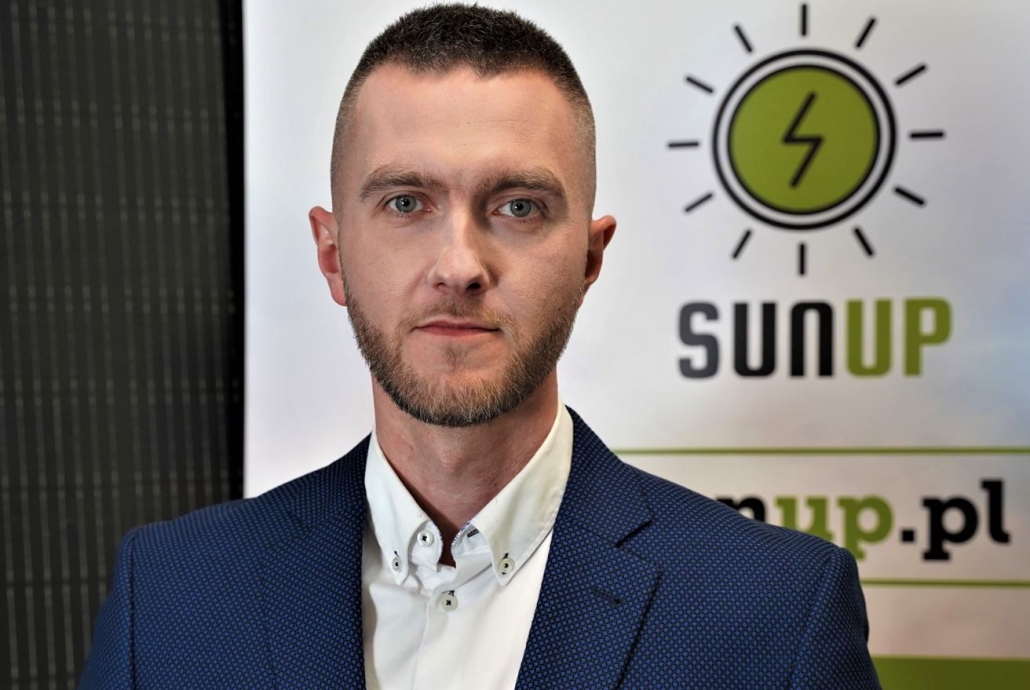 Let's take a closer look at SunUp… It all started with its founder, Michał Klimek, who gained extensive experience managing energy projects in Poland and abroad, in Malaysia, Iceland, the United States and Sweden, before setting up his own solar installation company SunUp in Poland in 2019.
Beyond the founder's ecological awareness, the main trigger pushing Mr Klimek to set up SunUp was the opportunity offered by the utility companies and the Polish government to Polish people to cover most of their electricity needs with solar thanks to an annual billing mechanism reaching over 80% of the self-consumption rate, using the network as a virtual battery system throughout the year.
Two years later, and despite a sensitive period with the pandemic, SunUp boasts over 60 residential and 4 commercial installations completed with APsystems microinverters, reaching over 400 kWp. At the end of 2021, Sunup will complete a 49.95 kWp installation based on APsystems microinverters. In addition to PV installations, SunUp also offers its customers ecological heat pumps that are complementary to PV systems, helping to increase the building's auto consumption ratio.
A multi-residential project in Rybnik
A recent housing cooperative project located in Rybnik, Poland, is a good example of this green energy transition dynamic. This project consisted in 7 multi-family residential buildings, belonging to the Rybnik Housing Cooperative, which had objectives to reduce energy costs for its investors via its own solar-powered roofs. It was also a way for the housing corporation to contribute to a cleaner way to generate electricity without using fossil fuels, which remain the vast majority of conventional power plants in Poland.
The result is 11 photovoltaic installations for a total project size of approximately 42 kWp.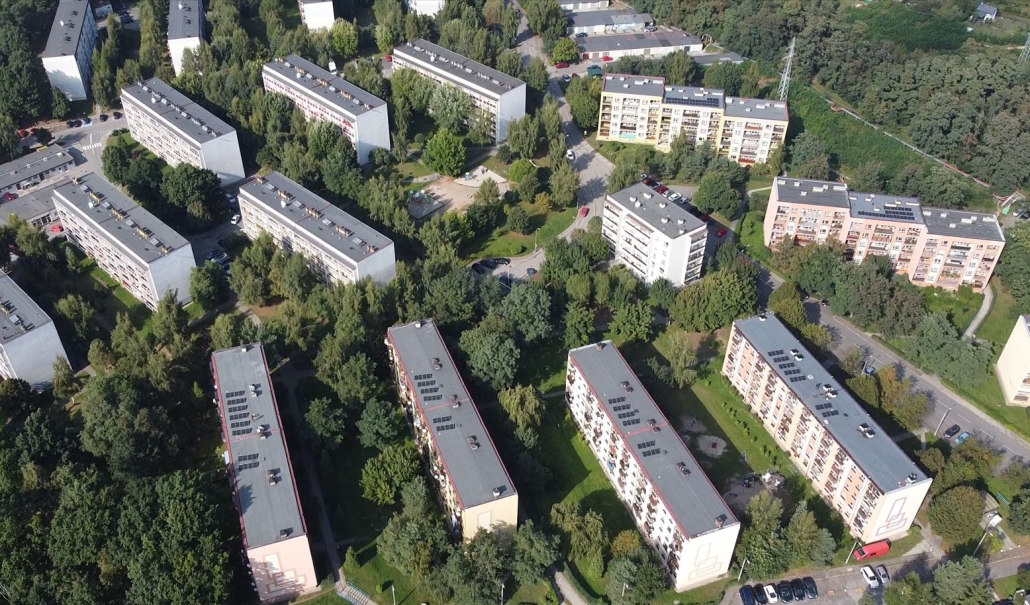 Mr Klimek explained the main challenges on this project:
"Firstly, we had to look for a safe, reliable solution. During the engineering phase, we realized that we were lacking space inside the building for any traditional string inverters. , the roofs built in the late 70's each had a slightly different angle and a variety of orientations. The solutions needed a high degree of flexibility… For all these reasons, multi-module microinverters from APsystems appeared to be the best solution we could propose to our customer."
"Another big advantage with APsystems is that each PV module benefits from its own MPP tracker, so we do not have to worry about any problems that could occur with production for our client. We can easily supervise the production of any PV module remotely. And here we are talking about 106 modules." He concluded.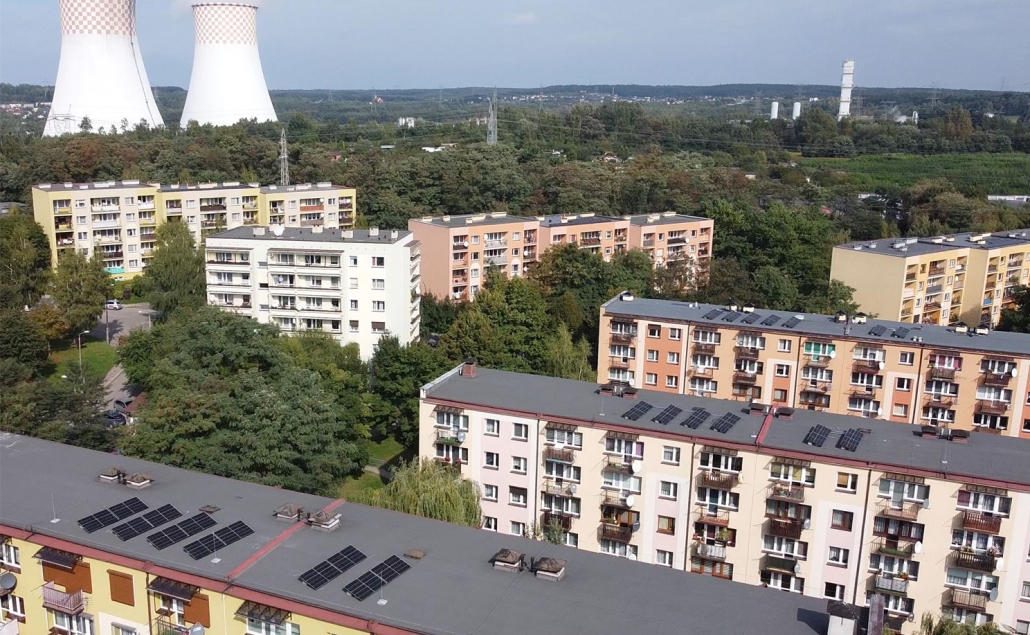 The advantages of microinverters
Leveraging a safe, more productive, and easier to maintain AC solution was key for SunUp to select APsystems microinverters for this project. It strengthened SunUp's team confidence in building reliable PV installations in challenging conditions under a tight time schedule and budget.
With the rapid development of self-consumption in both residential and larger projects, accelerated by a constant energy price increase, APsystems is very confident in the success of its current and upcoming multimodule microinverter range with the new DS3 dual series and QT2 3-phase Quad in Poland. As a proud member of Sunspec Alliance and SBF in Poland, APsystems continues to be a leader in the ever-growing solar MLPE segment offering smart and easy-to-install microinverter solutions.
https://emea.apsystems.com/wp-content/uploads/2021/11/Capture_feat.-pic.jpg
895
1088
Max Boiron
https://emea.apsystems.com/wp-content/uploads/2020/06/APsystems-logo-primary.png
Max Boiron
2021-11-08 21:39:42
2021-11-08 21:42:48
Installer portrait in Poland : SunUp ( article published on www.gramwzielone.pl on November 8th)