APsystems is proud to receive the "Top Brand PV Seal" for inverters on the French and Dutch markets from EUPD Research
The "Top Brand PV SEAL award" given to APsystems, is the outcome of an analysis based on a survey with 100 French PV installers and 100 Dutch PV installers. The data collected from installers during the second half of 2021 form the basis of this result.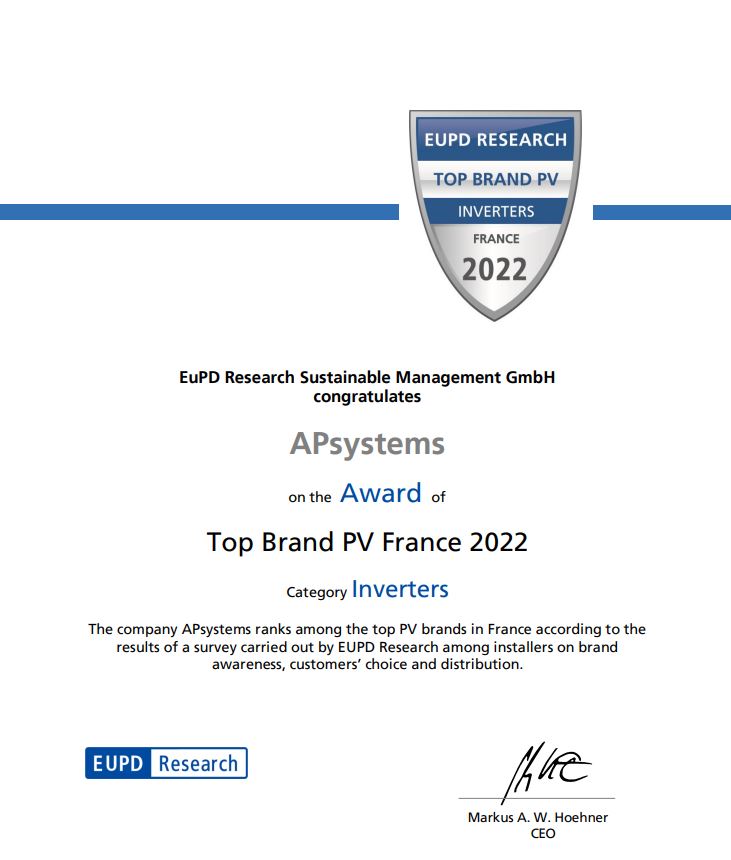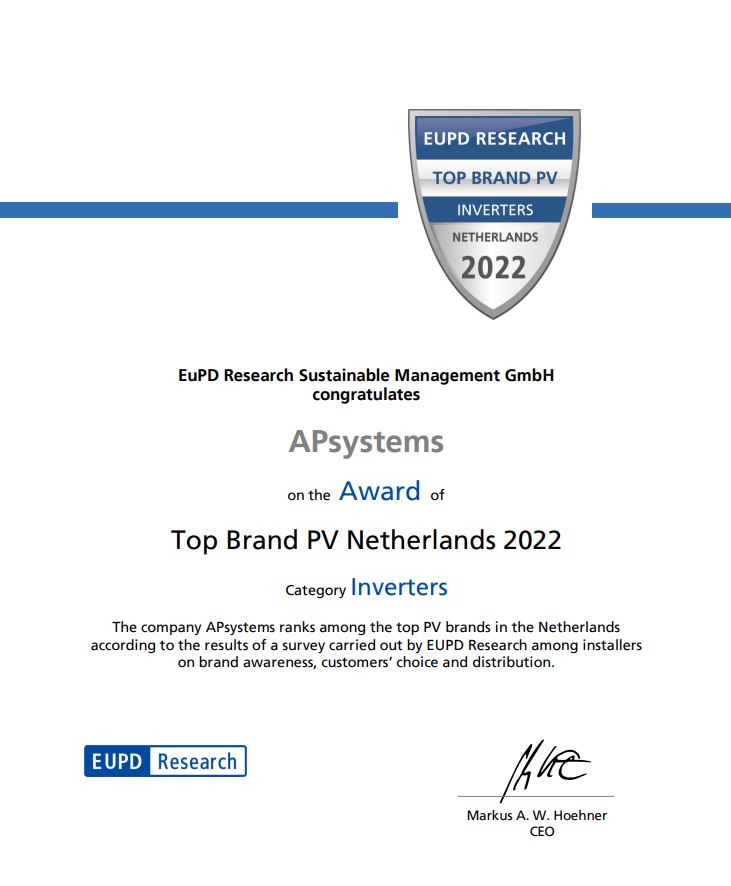 Based on years of research, EUPD Research has developed an annual evaluation model to focus on aspects of successful brand management. The seal is designed to present a complete view of the brand, in which various characteristics of the product play a role.
"For the 3rd consecutive year, APsystems has received the TOP PV brand seal among installers in France and we are very pleased that this award has also been recognized by Dutch installers for the 1st time this year". said Maxime Boiron, Global Marketing Director, APsystems." It is extremely gratifying for us to see that our company continues to be recognized as a leading provider of Module Level Power Electronics solutions for the solar industry.
APsystems continues to consolidate its leadership in multi-module microinverter solutions that offer innovative products designed to last. A new generation of microinverters for the residential market was introduced successfully on the market a few months ago. The DS3 series, the 3rd generation of dual microinverters, offers power options to solar professionals from 600 to 960 W AC with interactivity features with power grids (RPC), 97% peak efficiency and 20% fewer components compared to the previous generation.
Last year, APsystems' global cumulative product shipments surpassed 2 GW, representing close to 3 terawatt hours (TWh) of total energy produced, with a carbon offset of more than 2 million tons of CO2.
APsystems offers the widest range of microinverter solutions to solar professionals and continues to be a leader in photovoltaic innovation, serving its clients in more than 100 countries around the world, with local teams spread across Europe and offices in Lyon France, and Amsterdam, in the Netherlands.
https://emea.apsystems.com/wp-content/uploads/2022/04/SEAL-Featured-3.jpg
362
559
Max Boiron
https://emea.apsystems.com/wp-content/uploads/2020/06/APsystems-logo-primary.png
Max Boiron
2022-04-06 12:01:35
2022-04-06 14:52:16
APsystems is proud to receive the "Top Brand PV Seal" for inverters on the French and Dutch markets from EUPD Research