APsystems is proud to receive the "Top Brand PV Seal" from EUPD Research in the inverter category in the French market
The "Top Brand PV SEAL award" awarded to APsystems is the result of an analysis based on a survey of 100 French PV installers. Data recently collected from installers forms the basis of this result.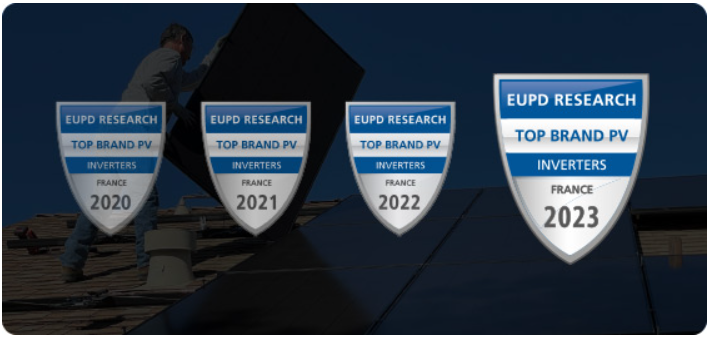 Based on years of research, EUPD Research has developed an annual assessment model to focus on aspects of successful brand management. The seal is designed to present a complete view of the brand, in which different characteristics of the product play a part.
"For the 4th consecutive year, APsystems has been awarded the TOP PV brand label among installers in France and we are delighted." said Aymeric Chollet, EMEA Sales Director, APsystems. "With a wide range of micro-inverters ranging from dedicated solutions for the self-consumption kit with the EZ1 series, residential rooftops with the DS3 or the QT2 dedicated to commercial buildings or carports, our company continues to be recognized as a leading provider of module-level power electronics solutions for the solar industry."
APsystems continues to strengthen its leadership in multi-module microinverter solutions by delivering innovative products that are built to last. A new generation of native three-phase micro-inverters for commercial or industrial buildings  was successfully introduced on the market a few months ago. The QT2, the 2nd generation of native 3-phase quad microinverters, offering 2000W AC output power goes perfectly with the rise of high power PV modules. This microinverter offers interactivity with grid operators, maximum efficiency of 97% and a product warranty of up to 20 years.
Cumulative global shipments of APsystems products exceeded 3.5 GW, representing more than 10 million solar panels powered by APsystems solutions worldwide.
APsystems offers the widest range of multi-module microinverters as well as storage solutions with the APstorage offering and continues to be a leader in photovoltaic innovation, serving customers in more than 100 countries across the world, with local teams across Europe and offices in Lyon, France, and Amsterdam, The Netherlands.