APsystems EMA Monitoring web portal and ECU app Now available in Spanish
The Energy Monitoring Analysis (EMA) and ECU APP are  available in spanish !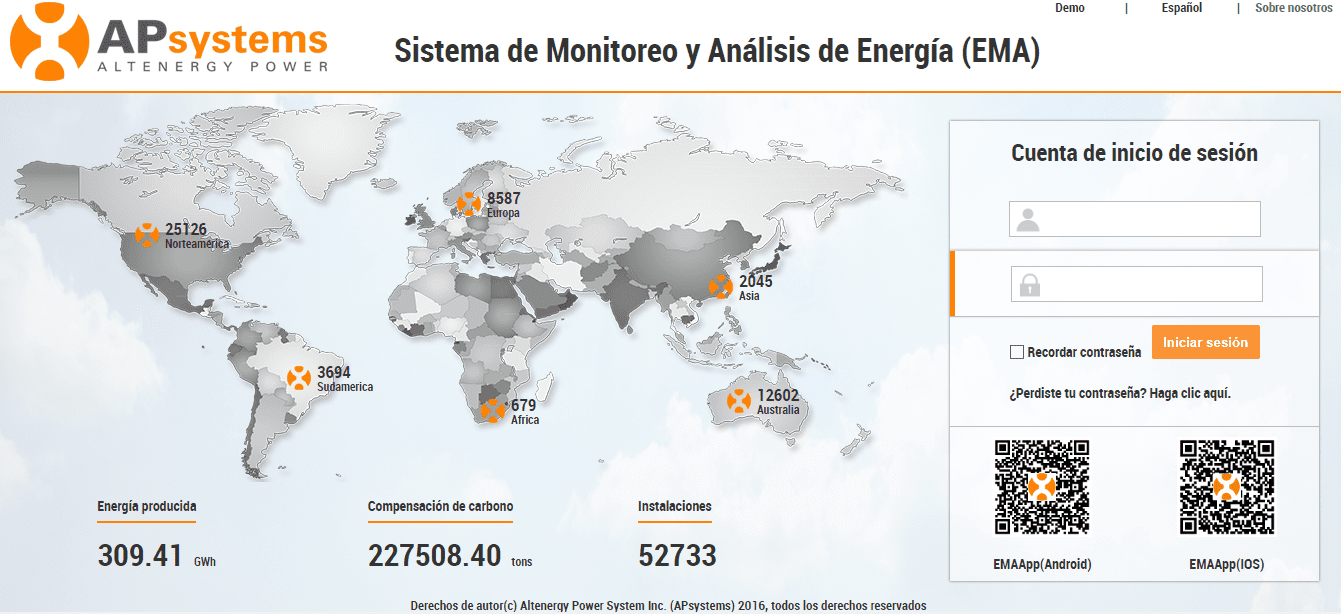 APsystems is proud to launch a Spanish language option for its Energy Monitoring & Analysis (EMA) web portal to enhance service to its Spanish-speaking customers around the world. Users can view their solar array performance using the same URL and log-in information as before at APsystemsEMA.com.
APsystems now offers 5 language options for its EMA portal for regional markets including English, Chinese, French, Portuguese and Spanish. The web-based platform, available for free on any connected device, monitors and reports module-level energy production of solar arrays. It also enables APsystems-registered solar installers and contractors to create and manage their customer's energy monitoring accounts.
Spanish-speaking APsystems customers to help them better manage their solar systems.
the ECU APP is also available in spanish ! This smartphone application is designed for solar professionals only, to ease the commissioning process. Installers use the app to register microinverters into the ECU-R and to connect the ECU-R to the local internet.
The APsystems Energy Communication Unit-Residential (ECU-R) is the information gateway to and from APsystems solar microinverters. The unit collects module performance data from each microinverter unit and transfers this information to an online database in real time, requiring only an Internet connection (via wired CAT5 or Wi-Fi) and power cable. Through the APsystems Energy Monitoring and Analysis (EMA) cloud-based service, the ECU-R gives the homeowner precise analysis of each microinverter and module in their solar installation.
See the status and configuration of the ECU-R gateway and monitor each inverter
Display real-time energy production and other performance data
Connect ECU-R to the router to upload data to the server and control the ECU-R gateway
Obtain an IP address automatically or use a static IP address
Reset inverter IDs in the ECU-R
Reset the ECU-R to display current time
Reset the WIFI password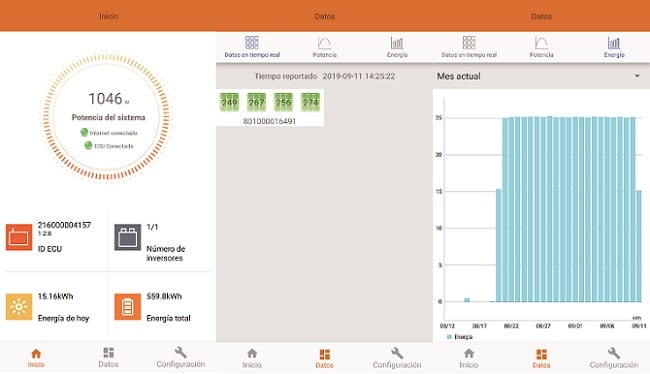 https://emea.apsystems.com/wp-content/uploads/2019/11/Capture-EMA-monitoring.png
836
1305
Max Boiron
https://emea.apsystems.com/wp-content/uploads/2020/06/APsystems-logo-primary.png
Max Boiron
2019-11-25 11:15:36
2019-11-25 13:33:24
APsystems EMA Monitoring web portal and ECU app Now available in Spanish