APsystems to deliver micro-inverter technology to Subsol in France
SUBSOL selects APsystems' micro-inverter technology for a large scale social housing project supplying solar energy to more than 680 homes in the metropolitan area of Vienne, France.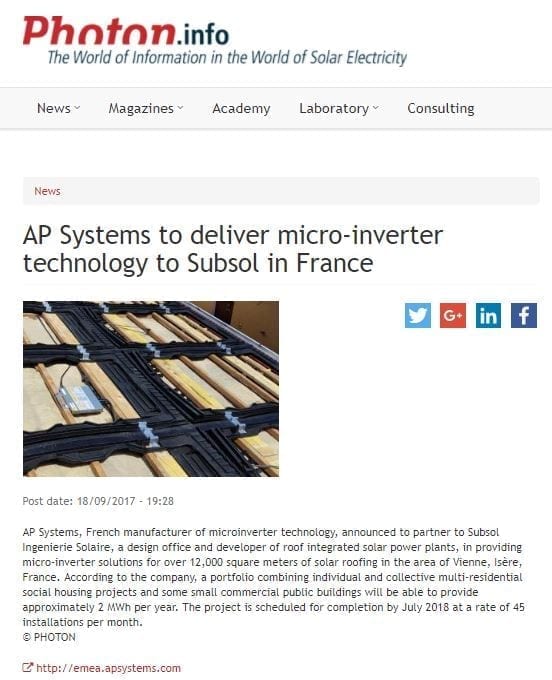 More than 280 residential and small commercial roofs with an average power of 8 to 9 kWp will be equipped with innovative micro-inverter solutions from APsystems.
  LYON, France – 18 September 2017 – APsystems, the world leader in microinverter technology for the solar industry, today announced that it has been selected by SUBSOL, a design office and developer of roof integrated solar power plants, to be its partner in providing micro-inverter solutions for over 12,000 sqm of solar roofing, an unprecedented project in the metropolitan area of Vienne, Isère, France. A portfolio combining individual and collective multi-residential social housing projects and some small commercial public buildings will be able to provide approximately 2MWh/year, equivalent to the annual consumption of 680 households.
"It is a project put into place by the mayor, financed by local authorities and citizens, and developed above all to bring added value to the territory. SUBSOL is committed to these socially responsible projects and wishes to develop awareness of energy efficiency among tenants." Said Jean-Baptiste Rouquerol, CEO of SUBSOL.
"We chose APsystems because of its extensive range of micro-inverter solutions, making it possible to easily address single-phase residential projects as well as small commercial buildings with a native 3-phase microinverter solution. The fact of having a local team to support us throughout the project, from the study phase to the ongoing installation phase, has reinforced our decision to work with APsystems.".
The project is scheduled for completion by July 2018 at a rate of 45 installations per month. Thanks to APsystems' complete solution that includes 1 micro-inverter for 2 or 4 panels, cables and accessories and an ECU communication gateway used to commission the system, enabling access to online energy monitoring anywhere, anytime via the EMA portal, the installation team, an average of 3 people, is able to complete an 8 or 9kWp installation in only 2 days, ensuring that each site meets its completion date.
"We are delighted to take part in such an avant-garde project. The innovation not only comes from the business model it is based on but also from the social dimension it carries. Solar energy in urban and built-up areas allows room for more innovative, safe and productive solutions, such as APsystems microinverters. We are convinced that this solar operation in Vienne will be a great success, and that it will be a source of inspiration for other cities," said Olivier Jacques, Executive Vice President, APsystems.
See related coverage articles in the specialized European press :
https://emea.apsystems.com/wp-content/uploads/2017/09/Capture-subsol_roof.jpg
441
1142
Max Boiron
https://emea.apsystems.com/wp-content/uploads/2020/06/APsystems-logo-primary.png
Max Boiron
2017-09-19 09:07:29
2020-08-19 09:31:32
APsystems to deliver micro-inverter technology to Subsol in France