The APsystems Microinverter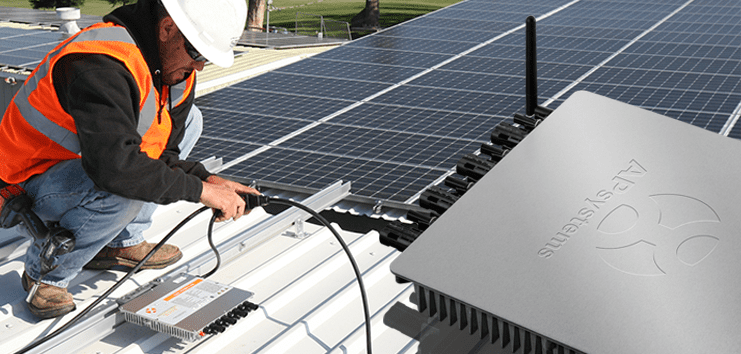 APsystems microinverters mark a breakthrough in solar technology, making PV arrays more powerful, smart, bankable, cost effective and safe.
Conventional "string" systems only operate as efficiently as the lowest-performing module, meaning reduced output from a shadow or leaf on one module cuts output across all modules in the array.
The APsystems microinverter is smarter.
Our microinverter technology individually monitors and maximizes power generation for each module in the array, boosting system efficiency by up to 20 percent. One APsystems unit handles two PV modules, lowering installation and balance-of-system costs.
All APsystems microinverters are engineered to comply with local grid requirements, ensuring safety of system installers and emergency responders.
The APsystems Microinverter Models
APsystems YC500i
Our flagship microinverter, the bestselling YC500i microinverter handles two PV modules simultaneously with dual MPPT. Up to 14 solar modules (7x YC500s) can be installed in a string with a single 20A breaker.
Maximum Power Output: 530W (from two solar modules)
Individual MPPT for each panel
Connect 2 modules up to 310W
Peak Efficiency: 95.5%
Dimensions: 220mm (8.6″) x  160mm (5.4″) x  29mm (1.37″)
Weight:  2.5kg (5.5 lbs.)
Up to 14 solar modules (7x YC500s) in a string with a 20A breaker
10 and 20 year warranties available
designed to operate in challenging real-world conditions from -40 °C + 65 °C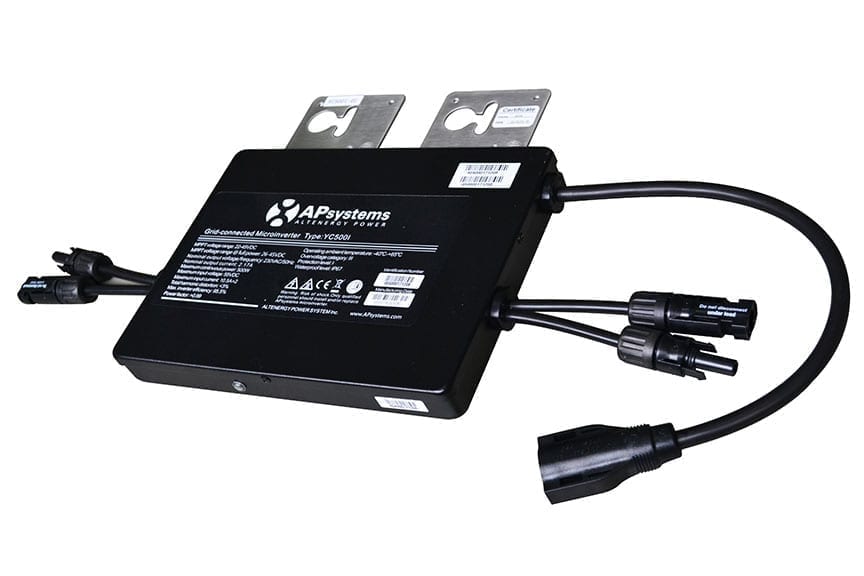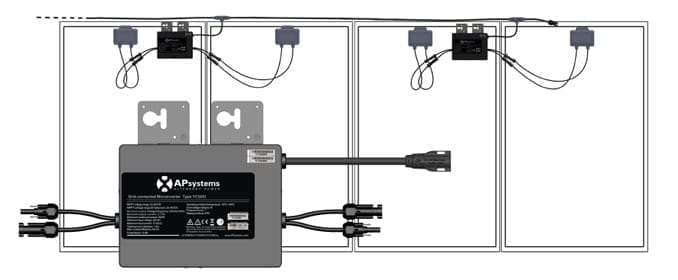 APsystems YC1000-3
The world's first true 3-PHASE 4-panel microinverter!  APsystems YC1000-3
The YC1000 is the industry's first true 3-phase (automatic phase balancing function) solar microinverter, handling 230V/400V grid voltages with 1000 watts maximum output, ZigBee communication and relays integrated ground. Up to 12 units (48 modules total, 60- or 72-cell) can be linked in a single 20A circuit.
This groundbreaking technology is only available from APsystems.
1000w AC output
3 phase output (no phase balancing)
230V / 400V
ZigBee
12 units / string (up to 48 PV modules)
Weight: 4kg (8.8 lbs.)
10 and 20 year warranties available