EMA Installer Account Registration for UK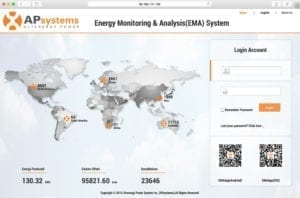 The APsystems EMA application (Energy Monitoring and Analysis ) offers you monitoring for your solar system. The application analyzes and reports the yield of each solar panel in your solar system. You can view this by using your computer, tablet or mobile device.
Installers can request their account by completing the form, mentioning company name, e-mail, address etc. The account registration will give you the possibility to provide additional support and services for your customer such as run diagnosis, set alarm e-mail, resolving any malfunctions in panels inverters or optimizing the yield.
If you are the owner of a PV system you can monitor your system using the dashboard  for  overview of production, view  the yield per panel or micro. An EMA account needs to be requested by your installer.
In order to offer you best-in-class monitoring services, APsystems provides detailed training sessions to Solar installers so they can register your installation and create your account.  Accessing detailed information  about your system, such as serial numbers, modules frequency, voltage etc is not trivial and in order to comply to the General Data Protection Regulation (GDPR), Installers should create your EMA account.
Already completed your training?
Request an installer EMA account by completing this form.
An EMA account needs to be requested by the installer due to required detailed information (EUC-ID and ID's of all micro's) of the PV system.