APsystems  Indian Summer of A+ Rewards
Installer Incentive Program
Collect A+ Rewards points and get :
– 750€ Amazon.com gift card for every 100 points*
– 300€ Amazon.com gift card for every 50 points* 
– 80€ Amazon.com gift card for every 20 points* 
*1 YC500i purchased = 1 point  / 1 YC1000 purchased = 2 points
APsystems is introducing the Indian Summer Installer Incentive Program, offering you an 80€ gift card on Amazon.com each time you purchase 20 YC500i microinverters or 10 YC1000  and you can earn more ; if you buy 50 units of  YC500i or 25 of YC1000 you get a 300€ gift card – but that's not all!
Buy 100 units of YC500i or 50 YC1000 and you get a 750€ gift card on Amazon.com (see details below) ! For installers located in The Netherlands, Germany & Nordic countries, visit www.amazon.de to see the available products catalog. For UK and Ireland based installers, go to www.amazon.co.uk . The more you buy, the more you get and this will be cumulative during the promotion period (From 09/10/2017 to 31/12/2017)  as long as you buy from a distributor listed below.
Get ready for a great Indian Summer with APsystems!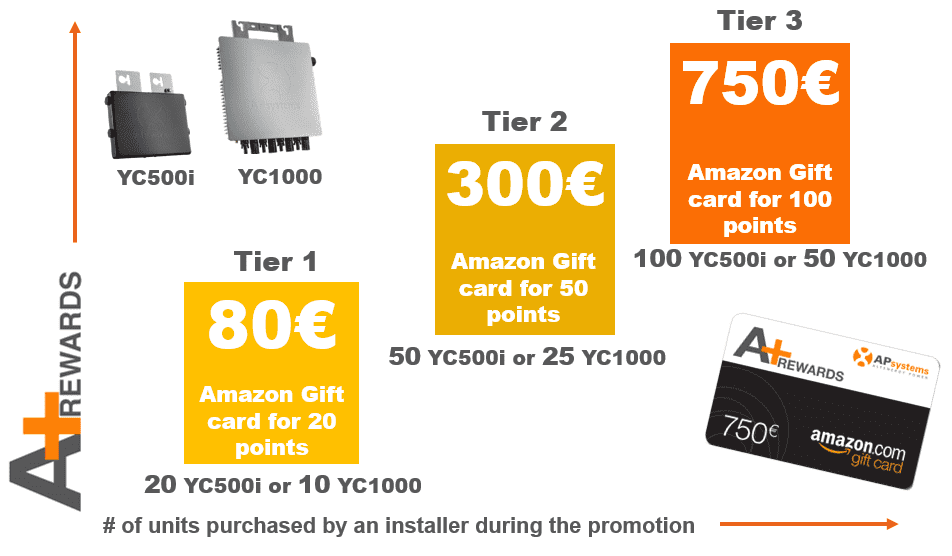 This rebate is open to new and current APsystems installers, but YOU MUST BE A REGISTERED INSTALLER WITH A VAT NUMBER TO PARTICIPATE. 
Register using the form on the right by Dec. 31, 2017 to receive your gift cards.
Rebate in 2 easy steps
1- Purchase the microinverters you need for your installations from one of the distributor partners listed below
2- Submit your invoices in the form on the right to collect your rebate
Benefit from APsystems Free technical training by visiting  emea.apsystems.com/resources/training 
Why APsystems?
APsystems' microinverters range offers these outstanding features:
• The world's best selling Duo with YC500i (single phase) and native 3-phase Quad microinverters with YC1000
• 1 microinverter accepts 2 panels or up to 4 panels for faster installation
• Independent MPPT per panel, IP67 rating
• 10 or 20-year warranty
And free monitoring for life — not a costly add-on like some other brands. We stand behind every APsystems array with free monitoring and support.
Discover our product section at : emea.apsystems.com/products/
Don't wait — order today
APsystems YC500i and YC1000 microinverters purchased between October 9th, 2017 – December 31, 2017 are eligible for the rebate.
Remember – you must be an installer
Contact your APsystems distributor for complete A+ Rebate program details, or email aplus.emea@apsystems.com .
See below for full Terms and Conditions and find out how to take advantage of this unbeatable offer. Now is the  time to bring APsystems advanced microinverter technology to your customers  – contact your participating distributor today.
Installers, register your purchase here